Welsh drones challenge our limits. Andy Whale, Chief Engineer – sUAS News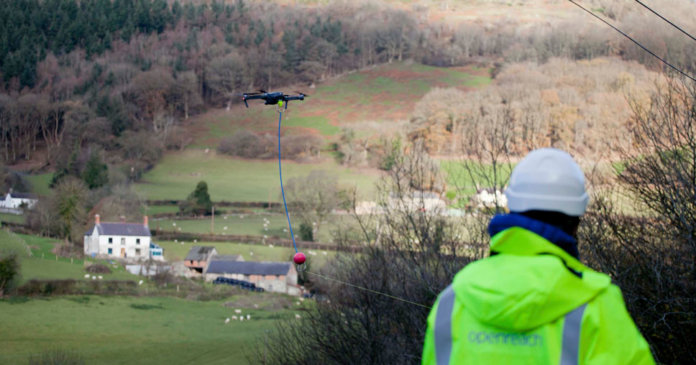 "That's not gonna fly". It's often something you hear when things seem impossible. It's definitely what most people thought when we were asked to get high-speed broadband to the tiny village of Pontfadog – deep in the heart of rural North Wales.
Skip forward a few months and we'd already engineered a link to the main part of the village, which is set in the floor of the beautiful Ceiriog Valley. But an isolated bunch of 20 homes perched up on the valley slopes were still tantalisingly out of reach. They're separated by steep uneven slopes, a dense patch of woodland and a small river – so our more traditional means of connecting homes – such as digging trenches or erecting cabinets, just wasn't going to work. The valley location also meant that a connection using satellite or wireless technologies wasn't an option either.
It seemed like this rural outpost would have to miss out. But in engineering, often the best solutions are the simplest and most unexpected ones. And that's when our engineering team sent for a drone.
We figured that if we attached the drone to a high-strength fishing line we could fly it over the top of the forest canopy and drop it to give us an unobstructed route. The fishing line in-turn would be hooked up to a draw rope which we could use to pull the fibre cable along that path towards the homes. If it worked, it could reduce days of complex engineering work to a matter of minutes.
To be fair, this technique of rolling out broadband had never been used anywhere else in UK – and we weren't even sure it would work ourselves.
But it did. And now all twenty homes have been connected up using Fibre-to-the-Premises (FTTP) technology – which means they can order the fastest broadband speeds in Britain.
And building on the success in Pontfadog – we've already carried out a second successful trial in Aberystwyth and we're now looking at other rural communities in a similar position.
Looking further ahead, we hope to train and equip our engineering teams to fly drones and deploy fibre in this way to other regions of the British Isles where we're busy extending our network.
Wales is arguably the most challenging of all the places in the UK that we have to build. Most people there live in remote locations, and they're dotted right across a country dominated by mountainous terrain, deep rolling hills and valleys. By contrast in Scotland people also live remotely, but they tend to group together in more clustered communities which are a little easier to reach than individual isolated properties.
Wales is a country where some areas are still too remote to receive a terrestrial TV signal. And then there's the weather. Wales is prone to high winds and it's one of the wettest countries in Europe – all of which present their own set of challenges when building a broadband network.
But despite the hurdles – our rollout in Wales has been a huge success. We've upgraded the vast majority of homes and businesses in Wales that weren't due to be covered by commercial companies – and more than 92% of Wales can order a superfast service today – a greater percentage than France, Germany, Italy and Spain.
Using drones is just the latest in a whole arsenal of tricks and techniques we've developed to roll out high speed fibre broadband. These innovations help us to bypass obstacles like the ones in in Pontfadog but also help to reduce building costs and time it takes to get our network built, which ultimately means we can do more.
So when it comes to delivering fibre in rural locations, innovation is key. Our motto is "don't limit your challenges – challenge your limits" – and you won't catch us saying "that's not gonna fly".